After half a year of no activity we got back with the W3C Games CG meetup last week on April 18th, this time with Sandy Aggarwal talking about Hyperledger's MESIG gaming subgroup. It was also the very first W3C Games meetup with me as co-chair.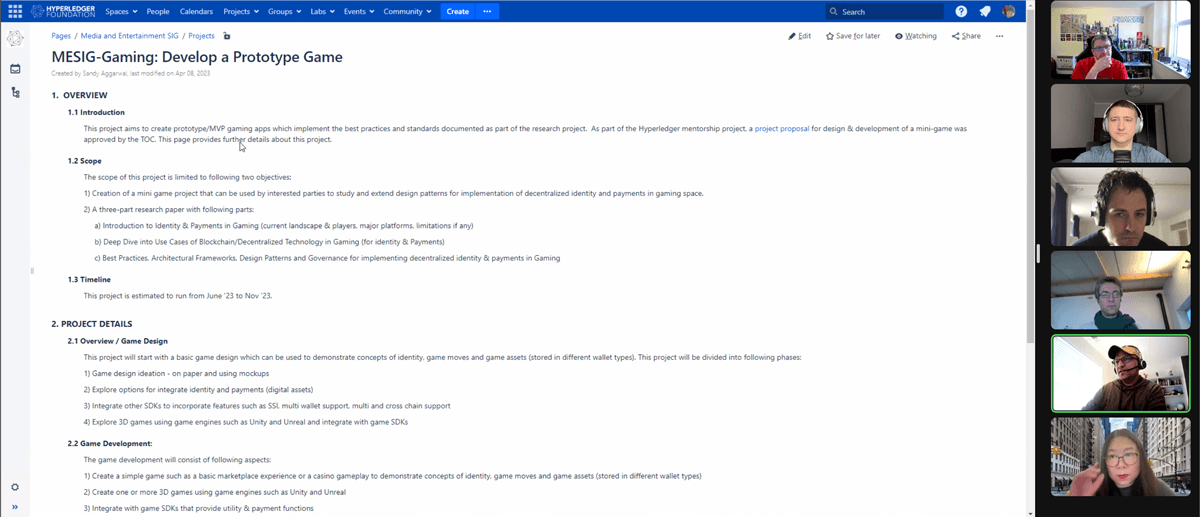 Sandy introduced Media and Entertainment Special Interest Group and its gaming subgroup, all within the Hyperledger Foundation. He talked about their activities, but also the recently announced project: it revolves around designing and developing a mini game to explore decentralized identity and payments.
Keep in mind Sandy is not looking to force the use of blockchains in this project and the goal is to really understand how we can achieve decentralized forms of identity and payments with and without use of blockchains. The important thing is that even if blockchains are used, it will be only as a shared ledger – strictly no speculation factor will be allowed or promoted (such as NFTs or coins).
Also, as it turns out, it doesn't even have to be a brand new game - an already existing, open sourced game (like any entry from js13kGames or some of the Gamedev.js Jam ones) would work as well, as the main focus would be on exploring identity and payments. The time frame of the work aims to be between June and November this year.
Thanks to Francois from W3C the video (and transcript) of the session is available here already. We do plan to have our next sessions recorded as well (compared to the previous years), so even if you couldn't attend you will still be able to watch it. The discussions after the main presentation won't be recorded though to make them more casual.
The next meetup is going to happen in June, with the original plan of having one meetup every two months. I already have some ideas for the next couple of events, so we should be secured at least till the end of this year.
Ps. The W3C Games Community Group meetups are not limited to representatives from big companies, quite the contrary - anyone can join, and I'm the prime example of that. All you have to do is register through the W3C website, join our group, and you're in! Please do so, it's important to have as many voices as possible when it comes to shaping the standards of web game development for millions of users!