May was a tough month, with some work done, although I hoped more will be accomplished by the end of it. Still, things moved forward a bit further, so overall it wasn't that bad.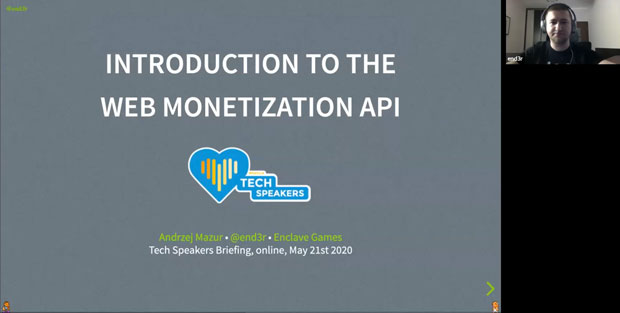 Games
Nothing yet, although soon-ish I should be diving deep into the development of new games.
Writing
Only posts on my blog, but I do hope my Grant for the Web proposal will go through, so developing games and writing their documentation would go hand in hand. I've also started to be active on the Grant for the Web forums.
Events
Even though I haven't planned it, I gave an online presentation - it was Mozilla Tech Speakers Briefing, and I was talking about my gamedev experiences with Web Monetization. The recording (not bad, not terrible) can be found on YouTube (reactivated our old channel) and Cinnamon (registered specifically for this). Both platforms allow monetization of video content, that's why I chose them in the first place.
Other
Most of the time spent this month was on the new end3r.com website, although it was still a lot less than I wanted, and not that many in general. The content is mostly done, and with some design fixes from Ewa it should be out really soon. Then we will be able to move forward with enclavegames.com.
I've also spent some time updating my Grant for the Web proposal based on the feedback from the committee. I'm going through the curated process, while the public Call for Proposals opened up recently as well.
I've written the Gamedev.js Jam 2020 post mortem - it went well and I'm gonna organize more editions in the future. This will have to wait a bit though, because the start of js13kGames 2020 is approaching fast… I should be in the middle of the preparations already, so better catch up on that!
Plans for the next month
Publish new end3r.com and enclavegames.com, get my Grant for the Web proposal accepted and announced, start preparing for the upcoming js13kGames competition.