I was sitting at the Heathrow airport's gate waiting to board my flight to São Paulo where I was going to give a keynote at the WebBR conference, when I was asked to give a lightning talk at JS Poland 2019.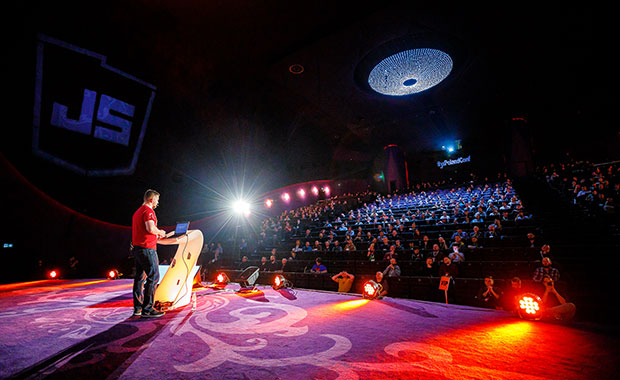 It was right after spending the weekend at the Indie Arcade's booth at MozFest where we showcased Web Monetized games, and right before the mentioned WebBR conference where I planned to give a talk about the evolution of HTML5 game development, so I thought that doing the lightning talk on the same topic would be cool. Even more if you remember that the first time I gave the talk was one month before, at the Tech Speakers meetup in Amsterdam, where it was first introduced… as a lightning talk.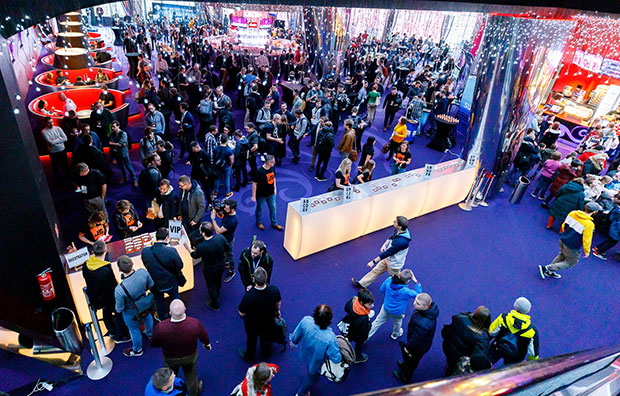 Fast forward one month from that situation and it's Friday, November 22nd - I'm at Złote Tarasy where JS Poland's venue is - Multikino. Their biggest screening room to be exact, the one with 777 chairs. I was once at JS Poland before, but never as a speaker. This time it was "just" a lightning talk, but I'm really happy I got invited!
I sat and watched a few talks as mine was suppose to be in the evening. I even took a photo of Vitalii Bobrov talking about Web Audio, so I could put it in my slides in the right place - the one about how powerful this API is right now. Playing guitar on stage absolutely counts towards that.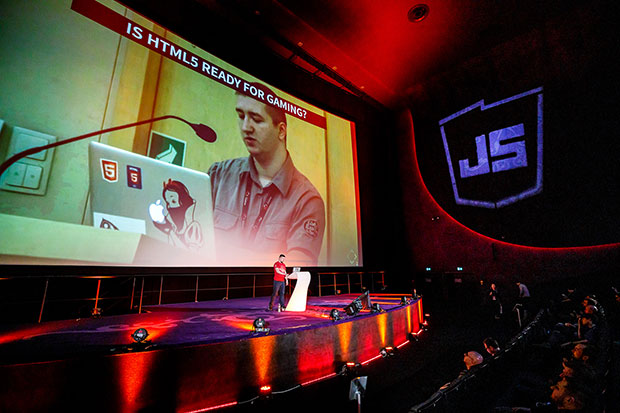 Anyway, I was surprised that there were suppose to be only two lightning talks during the whole day, and in the main room in front of all the attendees (some say it was closer to 800 people or even more). I only once gave a talk to the 500+ crowd and I wasn't entirely happy with how it ended, so I was anxious before going on stage, but years of experience did the job.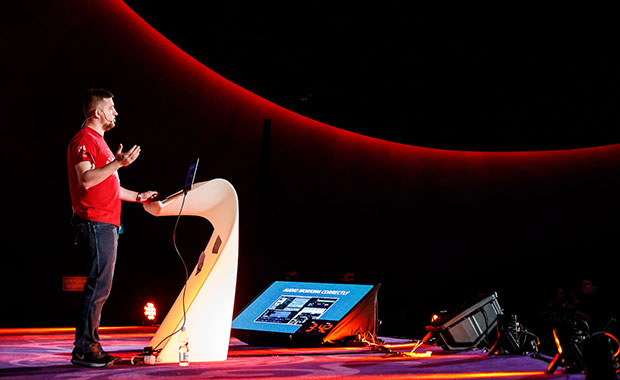 I think it went well - of course I'm no rockstar, but I felt it was a decent, solid delivery. I'm not a fan of having lights pointed right at my face, but fortunately they weren't too strong to lose focus. You can't tell much in only 5 minutes, but I hope the short journey from 2011 to 2019 showed how much Web gamedev changed over the years.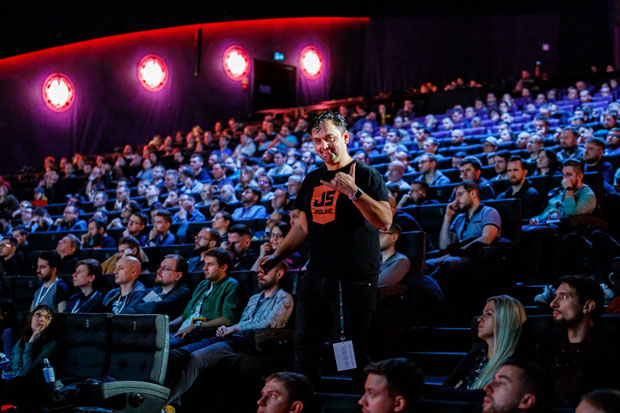 I felt really welcomed by the organizer, Dariusz Kalbarczyk - he's doing an awesome job running JS Poland, but also NG Poland (a conference about Angular that took place in the same venue the day before), plus a bunch of workshops before and after both gigs. I'm very thankful for the invitation as this was an exciting experience! Hope to join all the fun next years too.