Who would've thought I'll send out the Gamedev.js Weekly newsletter issues three hundred times in a row, every single week since the beginning of January 2014?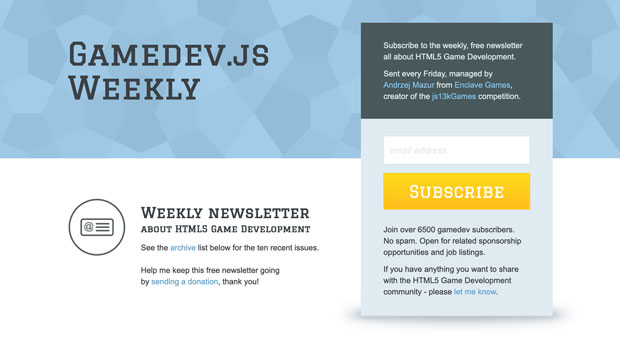 But I did, which is a little bit weird and cool at the same time. It feels like sometimes I kept it going just because many of you sent your appreciation, links to your blog posts, tutorials, tools, demos, games, or any other materials to be included in the upcoming issue.
I got used to it, sometimes I'm preparing the issues semi-consciously, but I'm doing everything not to miss it, because I know at least some of you are waiting for the email in your inboxes, which is awesome.
Anyway, issue number #300 is a great opportunity to ask for support. I'm doing all that on my own, in my free time, and don't expect anything. I don't need to earn bajilions of dollars, but it would be cool to at least not spend my own cash on running it.
So, if you care about the future of the Gamedev.js Weekly newsletter, you'd like to see it upgraded with a responsive design (which is lacking since… 2014), and taken care of properly, send a few bucks my way - thank you!
Ps. You can also join Coil as this will (more or less directly) support what I'll be doing with Enclave Games in the upcoming months.