The submission deadline for the js13kGames 2017 competition was September 13th, but it took almost half a year to finish that edition and be able to write a post mortem.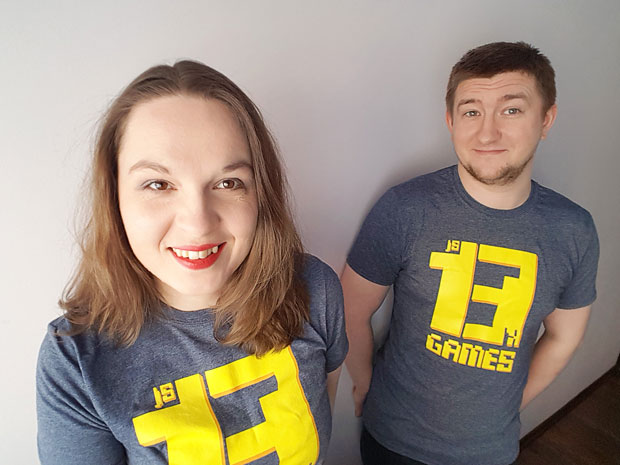 This edition was unique in many ways - be sure to read my post Organizing a successful competition that doesn't scale for details on a few issues I had. There were also good things, and I have to admit I'm really happy with how the competition grew over the years and became quite popular in the community. There was an overwhelming 254 entries in 2017, exactly twice as many as the year before, and it broke the overall record of 160 entries from 2015.
New category: A-Frame
There was a brand new A-Frame category, coordinated with the help and support from Mozilla. I'm a big fan of the A-Frame WebVR framework, so I was super happy when we agreed to have it. In this category you still had the 13 kb limit, but the A-Frame library was included "for free".
I didn't knew what to expect, and how many entries we'll have, but it ended up really well - with 28 A-Frame entries. It's a few times more than the Server category usually have, so I think it can be considered a success. Be sure to check Lessons learned from the A-Frame category in the js13kGames competition for some tips and tricks from the participants.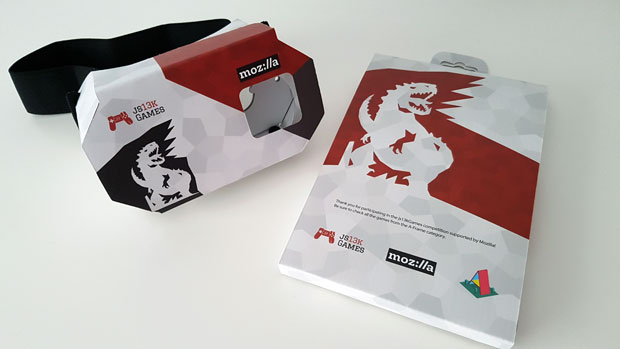 The cool thing was that we created a unique branded cardboards (designed by Ewa) that were distributed (along the t-shirts) to ALL the participants this year, not only those submitting their games to the A-Frame category.
Partners
It was great to have GitHub on board, and see how they helped promote the competition to a wider audience. Of course it wouldn't be possible without all the other partners too: Codility, BLUR, Spartez, Intive, Casumo. Thanks to them I was able to print and ship the t-shirts and other swag to all of you.
Judges
The judges did an incredible job, considering nobody expected 254 entries. Hats off especially to Christer Kaitila and Jupiter Hadley, who played and judged (almost?) all the games. Big thanks goes to Lee Reilly, Tomasz Wesołowski, Pedro Fortuna, Pablo Farías Navarro, Jimmy Joe McGurl, Mitri Wiberg, Victor Debone and Giovanny Beltrán. The A-Frame category had their own judges too: Fernando Serrano Garcia, Diego Marcos, Ada Rose Edwards and Potch.
Winners
It's interesting to see a difference between the Community Awards winners and the official results from judges, I feel like my personal favourites were different this year than the others had. For example the one I enjoyed the most was Mauja, which won community voting, but ended up on 15th place overall. Interestingly enough, LOSSST ended up 2nd in both - Xem was always very close to the first place in the last few years.
Next steps
I'll definitely need some help from the community, and at some point during the preparations I'll probably ask for it. It's halfway between the previous competition and the upcoming one, so I better start already to be able to be done with it before the end of the year.
Ps. If you've received your swag package already be sure to take a selfie and send it our way (or post on Twitter with #js13k hashtag), so we can add it to the Facebook gallery! If you're still waiting though please be patient - from what I know it takes longer than usual this time and there are still many people waiting for their packages, sorry about that.