I rarely do client work, but if a friend is recommending someone, I can at least talk about the details. It worked a year ago with Scooby-Do, and also this time with KFC.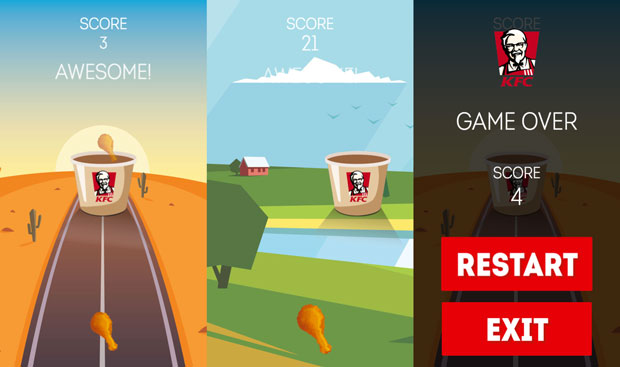 I did the Scooby-Doo themed set of a few simple games combined into one and promoting the new Dr Gerard's snacks for The Digitals agency a year ago. This time it was all about the KFC game created with the Boteusz team and integrated into Facebook's Messenger.
The game was promoting 60th anniversary of the KFC' classic buckets. Michał Miszczyszyn introduced me to Szymon Korytnicki from Boteusz, a company building Facebook Messenger bots. The development time took only a few days around the end of August - it was a tight deadline, and the development was done during the js13kGames competition (again), but we managed to make everything work within the time limit.
You can play the game on Facebook's Messenger at m.me/kfcgame, or see my development version available at kfc.enclavegames.com.
Although the game is extremely simple and could have been created from scratch, the time element was crucial, so I used the Phaser framework - version 2.6.2, latest build before the Community Edition. The development was based on a few static screens, so I added a little bit of juicyness myself. It was very well received, which made me really happy.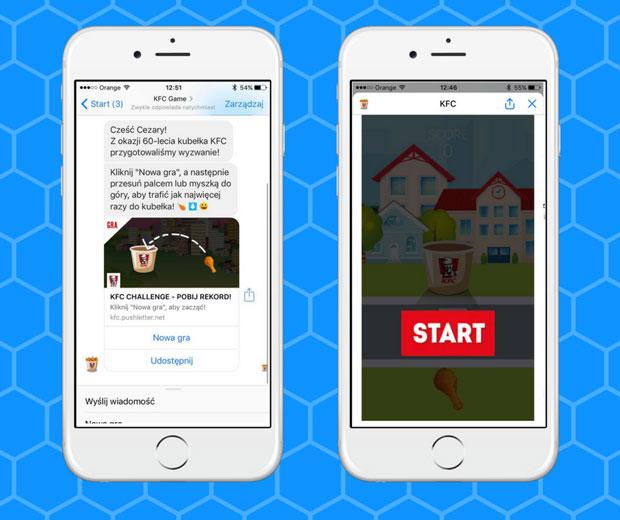 It was a quick and easy client work. If anything, I wrote about it because of the well known brand rather than the game itself. Plus it was a pleasure to work with Szymon - it feels great to be appreciated for the skills and good use of years of experience, which isn't that obvious. I really hope to work on more projects with him in the future.