Our second Gamedev.js meetup was moved to the new location - Hoża 51, and we liked it so much that we're gonna stay there for longer.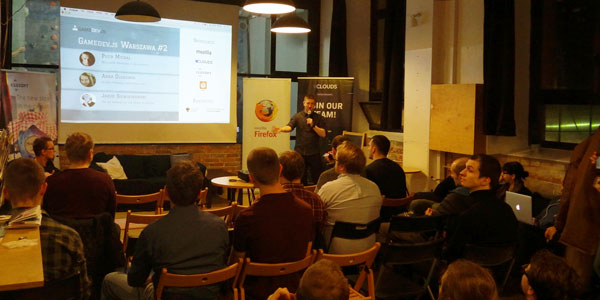 As you could imagine there was less people at the second meetup than the first one - it's obvious a lot of people will go to the brand new meetup out of curiosity. I'm happy with the event itself anyway though as we had a lot of great discussions after the talks.
The sponsors of the second meetup were: Mozilla, 10Clouds, Luxoft and BLUR. You can see the photos here, and watch the playlist with the videos here (in Polish).
Remember to subscribe to our YouTube channel, follow us on Twitter and Facebook, and join the discussion in the Facebook group. We're always looking for speakers and sponsors - get in touch by writing to us at kontakt@gamedevjs.pl.
Next meetup will be held on March 22nd - see you there!