If you'd like to learn how to build HTML5 games with Phaser and will be in Munich at the end of November, then I'd like to invite you to my workshop at the JS Kongress conference.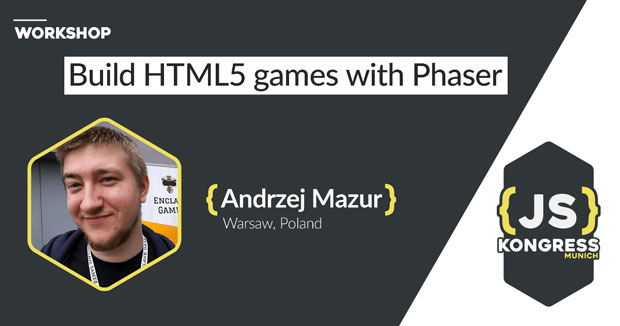 The conference will happen on 28th-29th of November at the Alte Kongresshalle in Munich, Germany. There's a very good lineup of speakers, and during the two day event there will also be time for some workshops, including Angular 2 jumpstart, rise of JavaScript robotics, building JavaScript transpiler, refactoring, and of course building HTML5 games with Phaser.
Games are the driving force of web evolution and the most fun thing to do while learning JavaScript. He shows you that building them is easy. Andrzej would like to share his knowledge with JavaScript developers who'd like to learn how to build mobile HTML5 games.
My workshop will happen on the second day, November 29th, at 13:00 in workshop room C.
Get the discount
The standard ticket for the conference alone costs 399 EUR, the workshop is 415 EUR, and the conference plus workshop combo 769 EUR. If you'd like to buy the tickets a little bit cheaper you can use this discount to get 10% off - the price will drop to 359 ⁄ 373 ⁄ 692 EUR respectively.
So, who's going to be there?