I was lucky enough to be selected as one of the speakers for the Mozilla DevRoom at the FOSDEM event happening last weekend in Brussels, Belgium.

The FOSDEM is a two-day event focused on Open Source, so I prepared my HTML5 gamedev talk to emphasize the openness in tools, frameworks and the overall approach used to create games for the Web. You can find my slides here, and the video should be available soon as all talks were recorded.
During the first day I helped with the Mozilla booth a bit. On the second day I was also there for a few hours, but then moved to the DevRoom to prepare myself for the talk. I was surprised by the size of the DevRoom - it was a fully-blown lecture room that could hold a huge amount of people. There was speakers that was able to fill it till the last seat, but I was the last in the schedule and thought there will be only a few people left to see me. Fortunately the crowd was quite impressive when I started even considering some of them would have to leave early to catch the transport back home. The presentation itself went quite ok: I spontaneously made a joke about the Vibration API - it was high time, because the one about the fridge wasn't funny anymore.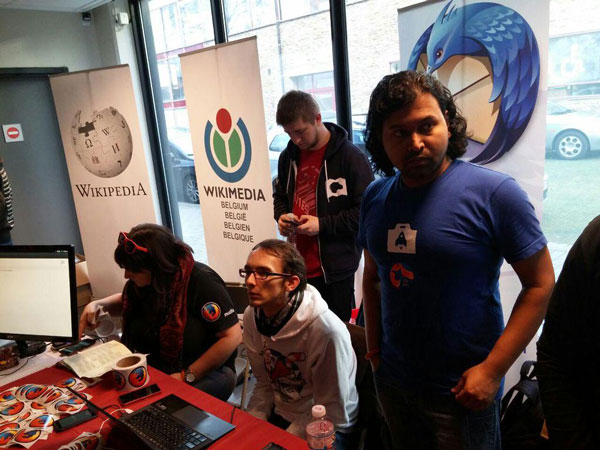 I met the Mozilla Reps community and had a great time during the whole weekend. It was awesome to meet them all and I can't wait for the next opportunity. I will probably meet some of them at the Hack on MDN Weekend that will happen at the end of March in Berlin.