Last weekend was full of the game development goodness - I've organized Warsaw Game Jam, the first edition of the Global Game Jam. Thanks to our amazing sponsors - Mozilla and GitHub, we could provide cozy place with good Wi-Fi, food and drinks (mostly beer and pizza) for everybody during the whole weekend. It wasn't only the Game Jam itself, but we were working hard for the Mozilla Game On competition and thinking about fulfilling One Game a Month at the same time. On sunday evening we even had a meet.js meetup with some guys from the Firefox OS team!
Friday evening on January 25th we decided to spend on brainstorming and planning the game to finish it in one weekend. The theme of the 2013 Game Jam was a heart beating, so we were thinking hard to get the best out of it.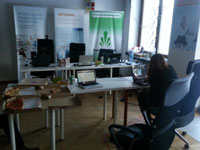 Saturday started unusual: I woke up early (around 7 AM) and decided to visit the competitive event just a few blocks away from the Warsaw Game Jam venue - the Firefox OS App Days organized by T-Mobile and Mozilla. It was a good idea as I managed to learn a bit about Firefox OS and convinced Staś Małolepszy and Piotr Zalewa (both from Mozilla) to show up the next day, speak about the new mobile HTML5 operating system and show some of the testing devices with it already installed.
I stayed only for the presentations and left the place before the hacking session started to open my venue at Warsaw Game Jam - we started the saturday coding around 12 AM, because people wanted to get a good night's sleep and have the strength to stay late and code the whole time. We were also checking the progress of other teams worldwide, talking about Mozilla Game On competition and the submissions for One Game a Month initiative.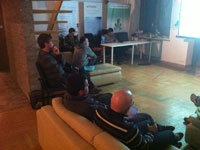 On Sunday we were finishing the games, trying to put them online on a serwer and checking the other entries. There's Tread Lightly - an HTML5 game where you are a treasure hunter looking for gold in a dark dungeon filled with zombies - hearing quicker heart beating means a zombie is nearby and you have to be careful to not become his meal. The other games were not finished and/or not published and that's my personal failure - one game for an event like that is definitely not enough.
At 4 PM we had a meet.js meetup where Staś Małolepszy and Piotr Zalewa talked about Firefox OS and Bernard Kobos showed us automated cross browser testing techniques.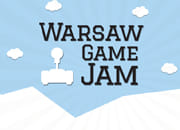 I thought I will manage to have more people and more games finished during the weekend, but it looks like I lose with winter, students having exams, the other Mozilla event nearby and a lack of resources to cover the promotion and adverts of the whole event (all of the money was spent on the place, food and drinks). I still think that having around 10 people is not so bad and it's a good lesson for me as an event organizer. All of the people that came by during the weekend enjoyed the time they spent there. Huge thanks goes to the Mozilla Game On team and the people from GitHub, as it is clear that without their help and support there couldn't be a Warsaw Game Jam this year. Thank you very much!
Oh, and check out the photos on Facebook if you want to see how we were having fun during the weekend.