The js13kGames competition ended, winners have been announced, so it's high time to wrap it up and summarize all the things. It was a lot of work, way more than I anticipated, but at the end I think it succeeded and I'm quite happy about the results.
I've received great feedback about the compo from both sponsors and participants. I'm almost sure I will run the second edition. There are already other interesting options coming related to the competition, so it could be a lot of fun in the next few months.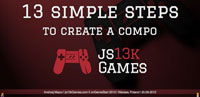 If I run the next edition of the compo I have to prepare better - the first time, without any experience, was a hard one. I was building the neccessary functionalities on the website in real time when they were needed. My semi-automatic submit form should be prepared better, but it did the job. At the end of the submision time I was busy preparing the slides about the compo for the onGameStart conference and then enjoying the conference itself, so I didn't manage to post the winners on the website right after I presented them during my talk - they were posted few days later.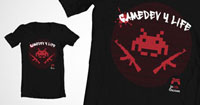 The next time I have to find the sponsors though, because I invested my own money into it: bought and prepared 20 special t-shirts that I gave away during the conference, now I'll have to send a huge pile of books from Poland (Europe) to the USA, Canada and Brazil. I don't want to loose enthusiasm because of investing more and more money, but I also don't want to be accused of wanting to earn money on the compo. It was created for pure fun of coding, to learn some gamedev skills and promote HTML5 gaming as a whole.
There were so many awesome games in the competition, it was wery hard for the judges to pick the best 10. There should be at least 20 of them mentioned, because many great ones didn't even make it to the top10. There is a long list of different prizes, but every single one of them have small amount of copies, so it was hard to distribute them equally - this should be arranged better.
Overall I'm very happy, the compo turned out to be a big success. The people were writing blog posts about their progress, discussing issues on chats, the entries were being featured on many websites. I even had my first interview published. The number of submitted games greatly exceeded my expectations. If I start the preparations earlier and think before I do, then there's a big chance it will be easier in the future.
Any suggestions will be highly appreciated - help me make the forthcoming editions better. Use the comment form below and write whatever you think will be useful the next time. Thanks!